Spiaggia di Calanova
Spiaggia di Calanova Tourist information
Sandy and gravelly beach within the Municipality of Capoliveri
Features of Calanova beach:
Length: 85 meters - Average width: 10 m
Exposed to: Northern winds -
Sheltered: from Easterlies
GD: 42.743175 - 10.412909
GMS Latitude: 42°44'35.43''N - Longitude: 10°24 '46.473''E

---
Description of Calanova beach
The beach of Calanova is located within a bay of outstanding natural beauty, with pines and cork trees that shade the beach during the afternoon. The sandy and pebbly shore stretches for about 80 meters and it is not much crowded given its particular position outside the most popular tourist routes. It offers a quiet ambience which is ideal for relaxing in a natural and pristine beach. This place is located on the eastern side of Capoliveri's village, and south to the beaches of Naregno and Straccoligno, within a bay that borders two small jags: the left one is covered by Mediterranean maquis, while the other by a shady pinewood. The beach offers some tourist services as a restaurant with bar, as well as the possibility to rent sunbeds and umbrellas.
On the left of the beach, adjacent to the cliff, there is a small dock, used mainly by sailors during summer. Nearby there are the two wild and pristine beaches of Malpasso and Istia.
Access to the beach of Calanova
To reach Calanova, you first need to cross the closeby resort of Straccoligno (which is about 3 km away from Capoliveri), then continue for about 1.5 km along an uncomfortable dirt road until a chain. From here turn left and continue for about 100 meters until you reach a small parking lot behind the beach.
Amenities available on this beach
| | | | | | |
| --- | --- | --- | --- | --- | --- |
| | Bar | | Beach sand mixed with gravel | | Disabled |
| | Equipped beach | | Floating dock | | Free beach |
| | Limited Parking | | Pinewood | | Restaurants |
| | Snorkeling | | Suitable for Children | | Toilet |
| | Visited medium | | | | |
Elbaworld suggests
Discover places and attractions nearby.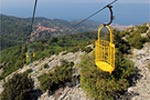 Discover incredibly beautiful excursions on Elba Island.