Galenzana beach
Galenzana beach Tourist information
Small pebbled and sandy beach of the Municipality of Campo nell'Elba
Features of Galenzana beach
Length: 400 meters - Average width: 5 m
Exposed to: Eastern winds
Sheltered to: all other winds
GD: 42.735459 - 10.235722
GMS Latitude: 42 ° 44 '7.653''N - Longitude: 10 ° 14'8.601''E

---
Description of Galenzana beach
This sandy shore looks fascinating and wild with a lovely uncrowded beach bordering the Mediterranean maquis, surrounded by a healthy environment. Galenzana is located on the western side of the Gulf of Marina di Campo. You can reach it by sea or via a path through the green Mediterranean maquis, walkable in about twenty minutes from the flight of steps in the town center of Marina di Campo.
The place is opposed to the more equipped and crowded beaches ideal for those looking for a peaceful and natural environment. The beach is surrounded by the vegetation of the typical tamarisk lapping sea. It is also interesting to snorkel in shallow water, but it is advisable to wear appropriate footwear to avoid annoying cuts. The beach has the remains of ancient iron and steel activities.
Access to the beach of Galenzana
The beach of Galenzana can be reached by sea or walking along a path for about twenty minutes, which starts from the old town center of Marina di Campo, in the area of ​​the flight of stairs and leads through a lush Mediterranean vegetation.
Amenities available on this beach
| | | | | | |
| --- | --- | --- | --- | --- | --- |
| | Floating dock | | Free beach | | Not accessible by car |
| | Sandy beach | | Snorkeling | | Unfrequented |
| | Watersports | | | | |
Select all
Hotels
a Marina di Campo
Via per Portoferraio, 39 - 57034 Campo nell'Elba
Online availability request
Elbaworld suggests
Discover places and attractions nearby.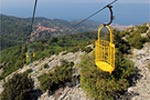 Discover incredibly beautiful excursions on Elba Island.