The Winds
Being an island, Elba is pretty aired out, and even when it seems that there is no wind you can still feel a soft breeze that usually comes from the sea. This guarantees enjoyable weather even during the hot and muggy summer days as well as short thunderstorms as they happen to be quickly pushed away by the wind.
To know well the winds is important not only for those who navigate with a sailing boat, but also for those who want to have fun doing windsurf, kite surf, or take a day trip along the coast with a boat that you can rent most of the time directly by the beach. In fact if you know the winds you can easily predict your day and understand in advance if it is the case to leave before the winds swells the sea.
Obviously, you don't have to worry if you are not a great expert, it will be enough to choose a clear day and you will not have these kind of problems since dangerous thunderstorms do not happen suddenly. Though, especially during summer, it is possible to see overturning between bad and good weather in few minutes because of local storms which anyway are not dangerous and do not affect a lot the wind and the sea. Since especially towards the end of summer there is a lot of water vapor accumulated in the air mainly due to temperature range between day and night, these local storms are mostly needed to unload a bit of rain.
Handy suggestions to get to know the wind and alway find clean sea in Elba
To be sure to find always a clean beach with crystal clear water it is necessary to know a few major winds that blow in Elba Island. During the summer season, under normal weather condition, the most frequent winds are sirocco and mistral. Sirocco blows from the southern quadrant (South-East), thus is preferable to go to the northern coast beaches, such as the beaches of Procchio, Biodola and many more.
The sirocco wind blowing from south turns the sea into crystal clear waters. If the wind is stronger than usual we advise you to pay particular attention to your children wearing armbands as they may quickly be pushed away by the stream. The sirocco wind is easy to perceive because it is very humid, hot and you get the feeling of being sticky.
Another frequent wind is mistral which blows from north (north-west). This wind is much fresher and enjoyable during the hot summer days. In these days we suggest you to visit the beaches located in the southern coast of Elba, such as the beach of Marina di Campo, Lacona, Cavoli, Seccheto, Fetovaia and many others.
More intense, but more rare are the winds from Westerly (West) and Libeccio (South-West)which can reach in rare cases 50 knots, that is 95 kilometres per hour, and considerably shake the sea which breaks violently on the Elban cliffs. Marine connections are guaranteed all throughout the year, but in case of hostile weather conditions these may be suspended for few hours. Anyway this doesn't happen so often and if it does it will be mainly in winter.
Elbaworld suggests
Discover places and attractions nearby.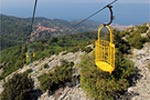 Discover incredibly beautiful excursions on Elba Island.