Cliffs of Fetovaia
Hereafter we introduce some paths between Seccheto and Fetovaia to make free climbing on cliff.
How to reach the cliffs of Fetovaia
To reach the cliffs of Fetovia, it's necessary, once
Marina di Campo
reached, to continue along the street indications for
Seccheto - Fetovaia.
After a beautiful panoramic path known with the name of Costa del Sole, exceeded the beaches of Cavoli and the suburb of Seccheto, to approximately 500 meters on the left of the track there are some parkings where it is possible to leave the car and catch up the cliffs that are situated along the provincial road that reaches Fetovaia.
Travelling from Seccheto to Fetovaia, from the second parking there are
sectors number 1 and 2.
Under the third parking there is the sector number 3 and in proximity of the fourth parking is situated
sector number 4.
The paths are very beautiful and can reach a maximum high of 15 meters, they are characterized by a granite rock perched over the see and all the start points are easily reached by foot in five minutes.
During the slope on foot toward the start sectors, you first get to the stops along the climb, then the foot of the cliffs. 
Most of the lines don't have suitable places to stop at but only the two hooks, so we advise you to take some cords with you for going down, that you can easily get back on your way back to the car park.
Technical sheets of the sectors
Sector 1
Super Reny boy 6a
Hang Loose 6b
Tempest 6b+
Hogger Bogger 6c
Acquarius 6a+
Blue moon 6a+
Sector 2
Germana 5b
Venticinquemezzo 6a
Natalina 6a
Onda su Onda
Simonetta 6b
Titanic 6b+
Ventosa 6a+
Sector 3

Crepix 6c
Blue blue 5c
Toccata e fuga 6c+
Toccata di fuga 6c+
Tastata di fuga 5c+
Poco Poco 6a
Luna 6c+
Must Klettern 6c
Diedrix 5c+
Apnea 6a+

Sector 4

Via della formica 7a
Mosquito Coast 6b+
H 2 Or 6a+
Fabricrack 7a+
Ombra Nera 7a+
Fog 5c+
Agua Caliente 6b
Wet Wet 6b
Elbaworld suggests
Discover places and attractions nearby.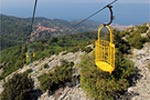 Discover incredibly beautiful excursions on Elba Island.