Elba Aleatico wine, DOCG
This vine variety was introduced by the Greeks and it is common in many Italian regions. It spread above all in Tuscany, in Maremma coasts, in Tuscan archipelago but also in Sicily and Puglia. It is a mutation of the Muscat (it has the same aroma) and it assimilate sugar very easily. This make the wine soft and round, that's why it is used to produce sweet straw wines.
Elba Aleatico is a DOCG wine and it can be produced only on Elba island. It is produced with 100% Aleatico grapes and it is a dessert and meditation wine. It is not a liqueur wine but it is realized drying out the grapes on trellis for about 10 days.
Elba Aleatico has an intense ruby-red color and during the ageing has a really intense and structured aroma. It has a jelly and fresh fruit flavor, also full-bodied and harmonic.
It is a dessert and meditation wine, so it can be served alone, but the traditional pairing is with the "schiaccia briaca", a sweet with raisins and pine nut damped with the Aleatico. It is also well paired with chocolate, peaches, fruit pies, custard based cakes, mixed berries.
The minimum of alcohol by volume is 19%, and at least 12% is acquired alcohol and the minimum total acidity is 6 g/l.
Vinification
The maximum yield should be 35% for fresh grapes. The grapes dry out till they have a sugar content of at least 30%. Then they are pressed and ferment with the skins. Once the wine reaches the right alcoholic gradation, it is separated from the skins (marcs, from which a tasty grappa is made). After that it ages in steel or in wooden casks. It can be drunk after the 1st of March of the year after the production, but some producers prefer to put it on the market after one year of aging.
Vineyard
The DOCG Aleatico vineyard has a concentration of the cultivation is a minimum of 5000 vine stump per hectare and a maximum production of grapes of 70 quintals per hectare. Each vine stump cannot produce more than 1.8 kilos. The grapes have to have, at the harvest, a minimum of 11.5% of alcoholic gradation.
Gastronomic pairing: fruit pies, "schiaccia briaca", chocolate based sweets and mixed berries. During summer is perfectly paired with peaches. An unusual but effective pair with blue cheeses like Gorgonzola or Roquefort at the end of the meal. It's a perfect meditation wine.
Color: strong ruby-red, garnet with aging
Aroma: intense and unique
Flavor: sweet, full-bodied, harmonic
Alcohol by volume (minimum): 19%, at least 12% acquired alcohol
Total acidity (minimum): 6 g/l
Dry extract content (minimum): 35 g/l
Serving temperature: 12o-14o
Historical background
Aleatico is a autochthon vine variety, it extends for 40 hectares of 170 cultivated for the production of Elba PDO. It has a delicate and thin skin and it cannot stay long on the plant after maturation. It has a very low yield. It is a natural non-liqueur straw wine extraordinary elegant and with an harmonic aroma. Most of the producer put on the market the last harvest, but some of them do it after one year aging.
The Elban tradition pair it with the "schiaccia briaca", typical sweet made of raisins, pine nuts, dried fruit, and Aleatico.
Confirming the excellence of the product it received recently the 8th DOCG of Tuscany. It is a great goal achieved by Elban producers, who in the recent years worked with dedication.
Elbaworld suggests
Discover places and attractions nearby.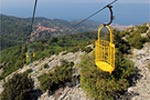 Discover incredibly beautiful excursions on Elba Island.