Pomonte wreck
Pomonte is well-known tourist place, and it is famous also for the wreck lying at the bottom of the sea, that are very close to the shore. In 1972 a 65 meters long merchant ship sank due to a violent storm that brought into collision against the
scoglio dell'Ogliera
. At first the ship was visible from the ground, because it was trapped between the rocks, but as a result of storm it totally sank.
Today the merchant ship wreck
Elviscott
, lies at a depth of 10 meters and after several years spent under the sea has created inside its own micro-marine climate. It is one of the few
diving
you can do at Elba starting from the ground, without the boat, it is located adjacent to scoglio dell'Ogliera which is about 150 far meters from the
Pomonte's beach
. For those wishing to enjoy the diving's show it is necessary to have got mask and fins, moreover thanks to the low degree of difficulty and the possibility to rent a pedal boat on the beach provided of an underwater mirror, is very beautiful even for children. They will have the chance to admire the fascinating profile of the wreck swimming among the fishes.
To visit the interior of the wreck you must be instead experienced divers. Here you can see the engine room, the kitchen and observe between the sheets of white bream wreck, octopus and eels that use the wreck as their natural habitat. It is very nice to take underwater picture too, incredible experience where the rays that penetrate the portholes give back amazing effects.
If you are in Pomonte or you are accomodated in it, don't miss the opportunity to visit the
Elviscott wreck
, you will be definitely enchated.
Elbaworld suggests
Discover places and attractions nearby.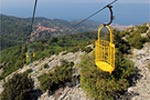 Discover incredibly beautiful excursions on Elba Island.