Wild beaches
Wild beaches are all those that do not provide services in Elba Island. Generally wild beaches are not so easy to get to by land and in some cases can only be accessed by sea. They are ideal for those looking for calm as they are usually uncrowded even during the high season, when many beaches, especially the equipped ones are assaulted by swimmers. Among the most equipped wild beaches we recall Laconella and Fonza located on the Southern Coast, while on the northern side worth a visit are the beaches of Sottobomba, Seccione, Acquaviva, Lamaia, Il Bagno, Le Sprizze, La Crocetta and Ripa Barata which are all accessible from the coastal road.
The most hidden wild beaches that can be only accessed by sea are instead located on the western and eastern sides where the coast is generally higher and thus difficult to reach by land, like in the case of the beaches of Maciarello, Cotaccia, Campo lo Feno, Punta Nera, Caletta di Capo Poro,Ripa Nera, Cala del Fico and the beach of Capo della Stella.
Another very beautiful stretch of coast that can only be accessed by sea is that of the Calamita district on the Costa dei Gabbiani. Great part of this stretch of coast cannot be accessed by land as it is included within a private property, therefore beaches are basically only to be reached by sea, like in the case of the beaches of Le Francesche, the Calamita Mine beach, Il Cannello, Punta Rossa, Remaiolo, Ginepro, Punta Bianca or Carbonaia and other smaller beaches of the mining side of Elba.
Elbaworld suggests
Discover places and attractions nearby.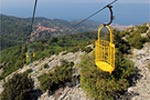 Discover incredibly beautiful excursions on Elba Island.