Rocks and Cliffs
Elba is not just about beaches, but it also offers stretches of coast with beautiful cliffs which are ideal to relax and sunbath. For those who wish a bit of calm, surely a day at the sea between the Elban cliffs is the right choice. The side of coast which mainly offers a rocky structure with smooth granite rocks is the Western Coast, where most of the beaches are sandy and have easy to access cliffs and smooth granite rocks at their ends, such as Cavoli, and all the stretch that leads from this location to Seccheto, passing through the Marine Caves.
Also the coastline which goes from Seccheto to Fetovaia is characterized by granite rocks; we also remember the famous natural pools of Seccheto mainly frequented by nudists.
The other side where cliffs are very comfortable and frequented by swimmers is that of Sant'Andrea;in fact, behind the small port there is a cliff trail with an easy route that leads to the vast cliffs known as lisce Sant'Andrea.
Elbaworld suggests
Discover places and attractions nearby.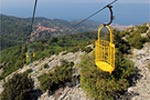 Discover incredibly beautiful excursions on Elba Island.