The beaches of Elba
More than 147 km of coastline with approximately 130 beaches and coves, ideal for a beach holiday.
The Island of Elba is popular for its beautiful coastline, so the beaches of Elba are one of the main reasons for the holidays on Elba. The island of Elba offers more than 147 km of coastline with more than 100 different beaches, which there is a difference in style and with or without bathing establishments and other services.
From large sandy beaches with bathing establishments and facilities for children, over rocks and bays, up to wild beaches, which can be reached only by sea, you can find everything on the island of Elba. Thanks to our division in communities and nature of the beach, it will be easy for you to find the ideal beach for your vacation.
On every beach you can find useful information and detailed descriptions with the main services. We can easily lead to the by yourself selected place ideally adapted to your needs.
Elbaworld suggests
Discover places and attractions nearby.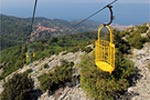 Discover incredibly beautiful excursions on Elba Island.