Buzzancone Beach
Buzzancone Beach Tourist information
Sandy and gravelly beach within the Municipality of Capoliveri
Features of Buzzancone beach:
Length: 500 meters - Average width: 25 m
Exposed to: Easterlies -
Sheltered: sheltered from its bay
GD: 42.742253 - 10.419995
GMS Latitude: 42 ° 44'32.111''N - Longitude: 10 ° 25 '11.984''E

---
Description of Buzzancone beach
This beach is ideal if you are on holiday with your dog which will be well tolerated in this beach, as it is never too crowded due to the path which is a bit challenging. Buzzancone beach looks wild and characterized by a natural and pristine appearance. Known both as Buzzancone and Cera, the beach is composed of sand and small graves, set in a small bay featuring a low coast and wild Mediterranean vegetation that almost reaches the sea. The seabed located opposite the beach is interesting for snorkeling and diving, with a wall that goes down 30 meters, where the wreck of an ancient Roman ship was found together with many amphorae. Today the exhibits are housed in the archaeological museum of Portoferraio.
Beach access to Buzzancone
The initial part of the route is the same that leads to the nearby beach of Calanova, here after parking the car, you need to pass the bar that borders the private property of the Village of Costa dei Gabbiani, and after a walk of about 15 minutes you will reach the beach .
Amenities available on this beach
| | | | | | |
| --- | --- | --- | --- | --- | --- |
| | Apartments nearby | | Beach sand mixed with gravel | | Free beach |
| | Hotels nearby | | Not accessible by car | | Pets Allowed |
| | Residence near | | Unfrequented | | |
Elbaworld suggests
Discover places and attractions nearby.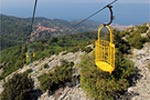 Discover incredibly beautiful excursions on Elba Island.