Beaches for Kids
The category beach for kids includes all those beaches in the Island of Elba characterized by services and facilities designed for families with kids. The main characteristics of the beach are: easy access by land, sand composition so that children can play, low degradation of seabed and shallow so that kids can easily swim.
Another important factor is represented by services, which do not necessarily have to be many, but toilet facilities are fundamental. These are usually provided by bars and restaurants closeby, even better if they have a playground.
Beach clubs of the island which are often equipped with designed areas for kids and playground deserve to be mentioned.
In this section we examine only those beaches with certain requirements to satisfy the most demanding tourist , not so that other beaches are not suitable for children but sometimes do not offer all the services. Obviously the ideal beach for his family and kids remains a choice that depends on the needs of the tourists.
Elbaworld suggests
Discover places and attractions nearby.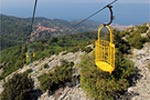 Discover incredibly beautiful excursions on Elba Island.